วันจันทร์ที่ 26 กรกฎาคม พ.ศ. 2553
Fala Chen 陳法拉
Fala Chen is a beauty pageant queen hailing from Georgia, US turned TVB Starlet. Reminds me of Athena Chu Yan slash Yui Aragaki
Profile:
Ethnicity: Chinese
Date of Birth: February 24, 1982
Place of Birth: China (Mainland)
Height: 171cm
Weight: 49kg
Blood Type:
Profession: Actress
Links
IMDB
Wikipedia
Fansite
Official Blog
Random Pix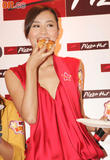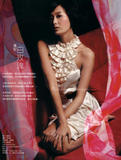 Fala Chen @ 《Jessica Issue 573》
*Credits to Kenwick @ 法拉城
http://www.falachen.cn
with Ekin Cheng for some ad
credit: http://www.falachen.co.nr/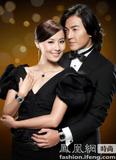 she speaks it so well



Behind the scenes:
Check out these armpits in Europe

Random blog pix...mainly from her TV shows
Chow Yun Fat praises Fala Chen, she hopes for an opportunity to collaborate
[Hong Kong Daily News]
Chow Yun Fat supports television rising star Fala Chen. He praises that she has the outer appearance and potential, he believes that she's going to have a long road of popularity.
[Oriental Daily]
Yesterday Fala Chen attended a public event in the rain. When speaking of Chow Yun Fat publicly praising her, Fala said: "I am so happy, we don't even know each other, it is a form of encouragement. I couldn't believe he noticed my performances, then I have to continue to work hard on my jobs. (Will you guys collaborate?) If Fat Gor asks, then of course I will accept. I hope there will be a producer and director that sees the message and make a movie!"
Source: Oriental Daily, Hong Kong Daily News
Translated by: aZnangel @ AsianEU
Pimping sugar lard cakes for Chinese New Year!!
SEXY AV IDOLS
Japanese girl
(261)
Korean girl
(115)
Chinese girl
(98)
Thai girl
(56)
Sexy Girl
(48)
[DGC]
(31)
[Bomb.tv]
(30)
Moko Girls
(27)
Vietnam girl
(26)
Hollywood
(24)
China
(14)
Mikie Hara
(14)
Yumi Sugimoto
(13)
[image.tv]
(13)
Hong Kong
(12)
India girl
(11)
Saki seto
(11)
Marie Kai
(10)
South Korea
(9)
[YSweb]
(9)
Viet Nam
(8)
Vietnam
(8)
model
(8)
Momoko Tani
(7)
Philippine Girl
(7)
[Sabra.net]
(7)
[vyj]
(7)
Akina Aoshima
(6)
Chrissie Chau
(6)
Minase Yashiro
(6)
Rina Aizawa
(6)
Rina Akiyama
(6)
Rola Chen
(6)
Song Jina
(6)
Taiwan
(6)
Vietnamese
(6)
[TWO]
(6)
[Y.S.V.W.]
(6)
อารยา เอ ฮาร์เก็ต
(6)
Aya Kiguchi
(5)
Hwang Mi Hee
(5)
Leah Dizon
(5)
Philippine
(5)
Singapore
(5)
Singapore girl
(5)
Yukie Kawamura
(5)
Yuu Tejima
(5)
[MGNet]
(5)
show girl
(5)
ชมพู่
(5)
Ayaka Komatsu
(4)
Bang Eun Young
(4)
Choi Byeol Yee
(4)
Eri Otoguro
(4)
Heo Yun Mi
(4)
Jung Yuri
(4)
Natsuko Nagaike
(4)
Ranko Kanbe
(4)
Shizuka Nakamura
(4)
Yuko Shimizu
(4)
Yuri Murakami
(4)
cute
(4)
sexy
(4)
Ami Tokito
(3)
Anri Sugihara
(3)
Asana Mamoru
(3)
Ayase Haruka
(3)
Car Show Girl
(3)
Elly Tran Ha
(3)
Eva Green
(3)
Japan
(3)
Jarah Mariano
(3)
Jeon JI Hyun
(3)
Jing Tian
(3)
Kang Yui
(3)
Kim Tae Hee
(3)
Motor Show Girl
(3)
Park Hyun Sun
(3)
Pretty girl
(3)
Race Queen
(3)
Republic of India
(3)
Rina Koike
(3)
Sento Gravure
(3)
[Bejean online]
(3)
[Girlz-High]
(3)
[Miss Actress]
(3)
[NS EYES]
(3)
[WPB.Net]
(3)
[Wanibooks]
(3)
[YS Web]
(3)
mainland
(3)
小池里奈
(3)
Aki Hoshino
(2)
Avril Lavigne
(2)
Brenda Song
(2)
Cha Sun Hwa
(2)
Chinese
(2)
Chisato Morishita
(2)
ERIKA SAWAJIRI
(2)
Emi Kobayashi
(2)
Grace Park
(2)
HQ Wallpapers
(2)
Han Chae-young
(2)
Han Jang Hee
(2)
Hanako Takigawa
(2)
Hwang In Ji
(2)
Kyoko Kawai
(2)
Lee Mi Hyeon
(2)
Li Shuo Nan
(2)
Lucy Liu
(2)
Malaysia
(2)
Malaysia girl
(2)
Maria Ozawa
(2)
Min Seo Hee
(2)
Morishita Chisato
(2)
Murakami Yuri
(2)
Nozomi Sasaki
(2)
Olivia Munn
(2)
Photoshoot
(2)
Rika Kawamura
(2)
Riko Tachibana
(2)
Rita
(2)
Rosie Huntington-Whiteley
(2)
Ryu Ji Hye
(2)
Tia Carrere
(2)
Yuko Ogura
(2)
Yuri Hamada
(2)
Zhang Ziyi
(2)
[Graphy.tv]
(2)
[PB]
(2)
actress
(2)
bikini
(2)
chinajoy
(2)
pure
(2)
shanghai
(2)
น้ำผึ้ง ณัฐริกา
(2)
ศรีริตา เจนเซ่น
(2)
เขมนิจ จามิกรณ์
(2)
เป้ย-ปานวาด เหมมณี
(2)
เมเปิ้ล พัชชุดาญ์
(2)
방은영
(2)
강유이
(2)
허윤미
(2)
ALEXFILM
(1)
Abbie Ratay
(1)
Adriana
(1)
Ahn Ji Young
(1)
Ai Shinosaki
(1)
Aimee Morakot
(1)
Aimi Katase
(1)
Akimoto Sayaka
(1)
Akiyama Rina
(1)
Alessandra
(1)
Alicia Ann Whitten
(1)
Ami Tokitou
(1)
Amrita Rao
(1)
Amy Adams
(1)
An Mitsu
(1)
Angela aka Liu Shihan
(1)
Anna Dearharts
(1)
Anna Kournikova
(1)
Anne Watanabe
(1)
Aornjira
(1)
Araya A Hargate
(1)
Araya A. Hargett
(1)
Aron Sky
(1)
Asami Oda
(1)
Asami Kawakami
(1)
Asami Tani
(1)
Asana Kawai
(1)
Asian-American
(1)
Asuna Kawai
(1)
Aura Kasih
(1)
Australian
(1)
Aya Takigawa
(1)
Baby Margaretha
(1)
Bae Da Hae
(1)
Betty Huang
(1)
Bikini Parade
(1)
CHIAKO SAKURAGI
(1)
CJ Super Race
(1)
Calendar
(1)
Carol Yeung
(1)
Carolyn Savage
(1)
Catherine Gontran
(1)
Celest Chong
(1)
Cha Seon Hwa
(1)
Chae Seon Hwa
(1)
Champagne X
(1)
Cheer Calendar
(1)
Cheer-เชียร์ ฑิฆัมพร ฤทธิ์ธิภินันท์
(1)
Chen Yue Tong
(1)
Chen Zihan
(1)
Cherman Boonyasak
(1)
Cherrie Ying
(1)
Cherry Chi Xue
(1)
Chi Xue
(1)
Chiling Lin
(1)
Chise Nakamura
(1)
Choi Byul I
(1)
Choi Byul Lee
(1)
Choi Hye Won
(1)
Choi Seul Ki
(1)
Choi Yu-Jung
(1)
Christa Miller
(1)
Christina Aguilera
(1)
Christine Nguyen
(1)
Cica Zhou Wei Tong
(1)
Claire Yiu
(1)
Constance Marie
(1)
Cristine Reyes
(1)
Cut Muthia
(1)
Daimi aka
(1)
Dana Davis
(1)
Dania Ramírez
(1)
Danny
(1)
Denise Lorraine Keller
(1)
Dichen Lachman
(1)
Dinh Ngoc Diep
(1)
Dongmingxuan
(1)
Donut Manutsanun
(1)
Doutzen Kroes
(1)
Ella Koon
(1)
Emanuela de Paula
(1)
Emma Santos
(1)
Eva Huang Sheng-Yi
(1)
FHM
(1)
FOUR - MOD
(1)
Fala Chen
(1)
Faraliza Tan
(1)
Febby Caroline
(1)
Filipina
(1)
Fiona Xie Wan Yu
(1)
Freida Pinto
(1)
Fumina Hara
(1)
G20
(1)
Go Ara
(1)
Go Jung Ah
(1)
Gong Beibi
(1)
Gong Rumin
(1)
Gwen Lu
(1)
Gybzy Wanida
(1)
HANA
(1)
Han Chae
(1)
Han Chae Young
(1)
Han Ga Eun
(1)
Han Ga In
(1)
Han Hee
(1)
Han Seo Young
(1)
Han Song
(1)
Han Ye Won
(1)
Haruka Mori
(1)
Haruka Tachibana
(1)
Harumi Asano
(1)
Hayden Panettiere
(1)
Heo Yoon Mi
(1)
Hsu Jo Hsuan
(1)
Huo Siyan
(1)
Im Acita
(1)
Indonesian girl
(1)
Irina Sheik
(1)
Izabel Goulart
(1)
Izumiia Liu Yu Qi
(1)
J-Lim
(1)
JOEY
(1)
JOY
(1)
Jade Wifey
(1)
Jaime Pressley
(1)
Jami Gertz
(1)
Jamie Chung
(1)
Jang Jung Eun
(1)
Jang Soo Yun
(1)
January Jones
(1)
Japanese
(1)
Jaslene Le
(1)
Jaymee Ong
(1)
Jenn-Anh Nguyen
(1)
Jenna Shea
(1)
Jenny Athayasai
(1)
Jennylyn Mercado
(1)
Jeon Hye-Bin
(1)
Jessica AKA
(1)
Jessica Burciaga
(1)
Jessica Gomes
(1)
Jialin
(1)
Joely Fisher
(1)
Jolin Tsai
(1)
Ju Da Ha
(1)
Jung Se On
(1)
K-aBZ
(1)
KANOM
(1)
Kaera Uehara
(1)
Kama Lo
(1)
Kaoru Sugayama
(1)
Karolina Kurkova
(1)
Kate Tsui Tsz-Shan
(1)
Katrina Bowden
(1)
Katy Segal
(1)
Kawamura Yukie
(1)
Keiko Kubo
(1)
Keiko Kitagawa
(1)
Kellita Smith
(1)
Kelly Hu
(1)
Keyana Dionne
(1)
Kim Ah-joong
(1)
Kim Do
(1)
Kim Ha Yul
(1)
Kim In Ae
(1)
Kim Mi Hye
(1)
Kim Tae-hee
(1)
Kini Lee
(1)
Kiran Rathod
(1)
Kob - กบ สุวนันท์
(1)
Korean
(1)
Kratae
(1)
Kristen Bell
(1)
Kuroki Meisa
(1)
Kwak Hyun Hwa
(1)
Lacee
(1)
Larissa Riquelme
(1)
Lavina Chung Wai-chi
(1)
Laydee CC
(1)
Lee Chae-rin
(1)
Lee Chae-young
(1)
Lee Eun Seo
(1)
Lee Hyori
(1)
Lee Ji Hee
(1)
Lee Ji Woo
(1)
Lee Ji-ah
(1)
Lee Pa-ni
(1)
Lee Soo Jung
(1)
Lee Yeon Hee
(1)
Lee Yeon-hee
(1)
Lee Yo Won
(1)
Lesley
(1)
Li Bingbing
(1)
Li Xinhua
(1)
Li Yuan-jing
(1)
Lim Ji Hye
(1)
Lin Ke Tong
(1)
Linh
(1)
LisaRaye McCoy
(1)
Liu Miao
(1)
Lori Loughlin
(1)
Lyna Tran
(1)
Lynn Hung
(1)
Maggie Q
(1)
Mai Nishida
(1)
Mai Phuong Thuy
(1)
Maja Salvador
(1)
Mami Matsuyama
(1)
Mami Yamasaki
(1)
Manami Fuku
(1)
Manami Marutaka
(1)
Maomi Yuki
(1)
Marissa Miller
(1)
Mars
(1)
Marzia Prince
(1)
Masami Nagasawa
(1)
May Pitchanat
(1)
May-Buntita Thanwisate
(1)
Megan Fox
(1)
Megu Fujiura
(1)
Michelle Chia
(1)
Michelle Kwan
(1)
Michelle Lee
(1)
Michelle Wie
(1)
Michishige Sayumi
(1)
Mila Kunis
(1)
Min Hyo-rin
(1)
Ming-Na Wen
(1)
Miranda Kerr
(1)
Misa Campo
(1)
Miss USA 2010
(1)
Miss Universe
(1)
Misshayoyo
(1)
Missy Peregrym
(1)
Mix
(1)
Miyu Hoshino
(1)
Mocha Girls
(1)
Momoko Komachi
(1)
Momoko Tanki
(1)
Montana DeLeon
(1)
Moon Bloodgood
(1)
Moon Geun Young
(1)
Natalie Glebova
(1)
Natasha Yi
(1)
Nathalie Davies
(1)
Nene Matsuoka
(1)
Nhu Loan
(1)
Nina Zhang
(1)
Nishino Shou
(1)
Nothing but Nozomi
(1)
Ohasi Miku
(1)
Pancake
(1)
Pang
(1)
Park Shi Yeon
(1)
Park Si Hyun
(1)
Park Soo Jin
(1)
Patcharapa Chaichua
(1)
Pattaratida
(1)
Pattaratida Patcharaveerapong
(1)
Paula Taylor
(1)
Pim Pimmada
(1)
Pim ZaZa
(1)
Pimmada Boriruksuppakorn
(1)
Ploy
(1)
Praew Mahakanit
(1)
Qi Qi
(1)
Queena Yan
(1)
Rachel Varadilla
(1)
Rainbow Woo
(1)
Rin Sakuragi
(1)
Rion Sakamoto
(1)
Saaya
(1)
Sakai Wakana
(1)
Saki Yamaguchi
(1)
Sakura Haruno
(1)
Saori Hara
(1)
Sari Kobayashi
(1)
Sawai Miyuu
(1)
Sayaka Ogata
(1)
Sayoko Ohashi
(1)
Selita Ebanks
(1)
Seo Woo
(1)
Seo You-Jin
(1)
Serena Vo
(1)
Sherlyn Chopra
(1)
Shin Min-a
(1)
Shin Sun A
(1)
Shinohara Ryouko
(1)
Shu Qi
(1)
Singer
(1)
Somaya Reece
(1)
Song Ji Hyo
(1)
Song Jia
(1)
Sora Koizumi
(1)
Stephani Sweet
(1)
Suenaga Haruka
(1)
Sulekia
(1)
Summer Walker
(1)
Sun Yiqi
(1)
Supaksorn Chaimongkol
(1)
T-ARA
(1)
TV-Pool
(1)
Tangmo
(1)
Tanya Roberts
(1)
Tera Patrick
(1)
Tianna Ta
(1)
Tiara Harris
(1)
Tila Tequila
(1)
Toni Gonzaga
(1)
Um Ji uhn
(1)
Utada Hikaru
(1)
Vanessa Hudgens
(1)
Vanessa Veasley
(1)
Victoria Her
(1)
Vivian Alamsyah
(1)
Vivian Hsu
(1)
Wang Ruo Yi
(1)
Wing-shan
(1)
Wuyiman
(1)
Xiao Xin
(1)
Xiong Dailin
(1)
Xray_no11
(1)
Xu Wien
(1)
Yamaguchi Sayaka
(1)
Yangyang7
(1)
Ye Xiqi
(1)
Yi Qian
(1)
Yiu Ka Lai
(1)
Yoko Mitsuya
(1)
Yoon Eun Hye
(1)
Yoshitaka Yuriko
(1)
Yoshizawa Hitomi
(1)
Yu Ha Na
(1)
Yuka Hirata
(1)
Yulu
(1)
Yumi Adachi
(1)
Yumi Kobayashi
(1)
Yumi Sugimot
(1)
Yumiko Ma Yi Na
(1)
Yunjin Kim
(1)
ZOO Magazine
(1)
Zhai Ling
(1)
Zhang Xiyu
(1)
Zhang Yuqi
(1)
Zhang Zi Yi
(1)
Zhou Wei
(1)
[BT]
(1)
[Kishin-Club]
(1)
[MOKO]
(1)
[Oscar-Land]
(1)
[Sabra Net Strictly]
(1)
[TV]
(1)
[for-side]
(1)
[misty]
(1)
[oscar-land]
(1)
[sabra]
(1)
aka Liu Zixuan
(1)
aka Vivien Chen
(1)
beijing
(1)
cosplay
(1)
dingbeili
(1)
gaoyuanyuan
(1)
girls group
(1)
hongkong
(1)
image
(1)
korean girls group
(1)
liuzongyuan moko
(1)
lyo Hanaki
(1)
maya myth
(1)
mp3
(1)
netbook
(1)
pretty
(1)
smile
(1)
star
(1)
stunning
(1)
takayama chiemi
(1)
teclast
(1)
wangzizi
(1)
zhoulei
(1)
กงยู่หมิน
(1)
กระแต
(1)
ตั๊ก
(1)
นิตยสาร
(1)
น้ำฝน
(1)
บงกช คงมาลัย
(1)
ปอย ตรีชฎา
(1)
พอลล่า
(1)
พัชราภา ไชยเชื้อ
(1)
พิชญา สังขโชติ [โบว์]
(1)
วราลักษณ์
(1)
ศุภักษร ไชยมงคล
(1)
สุดสัปดาห์
(1)
สุภนิดา โสภณจิตร
(1)
หนูนา
(1)
อรจิรา แหลมวิไล
(1)
อั้ม
(1)
อาภาศิริ
(1)
อิม อชิตะ ธนาศาสตนันท์
(1)
เก๋ ชลดา
(1)
เฉิงฟ่าง
(1)
เป้ย-ปานวาด
(1)
เมย์ บัณฑิตา ฐานวิเศษ
(1)
เมเปิ้ล
(1)
เอมี่ มรกต
(1)
แตงโม
(1)
แตงโม ภัทรธิดา
(1)
แป้ง
(1)
แพนเค้ก
(1)
แหวน ปวริศา เพ็ญชาติ
(1)
โดนัท มนัสนันท์
(1)
โย ยศวดี หัสดีวิจิตร
(1)
ใบเฟิร์น
(1)
김인애
(1)
차선화
(1)
ローラ チャン
(1)
三津谷葉子
(1)
中村知世
(1)
侯宇涵
(1)
北川景子
(1)
原幹恵
(1)
原幹惠
(1)
小林優美
(1)
川村りか
(1)
李冰冰
(1)
森はるか
(1)
森下千里
(1)
甲斐まりえ惠
(1)
章子怡
(1)
逢沢りな
(1)
長澤まさみ
(1)
陈紫函
(1)
馬伊娜
(1)
黃聖依
(1)
고아라
(1)
김아중
(1)
김태희
(1)
문근영
(1)
민서희
(1)
박수진
(1)
신민아
(1)
윤은혜
(1)
이연희
(1)
이지아
(1)
이채영
(1)
장수연
(1)
전지현
(1)
한가인
(1)
한채영
(1)